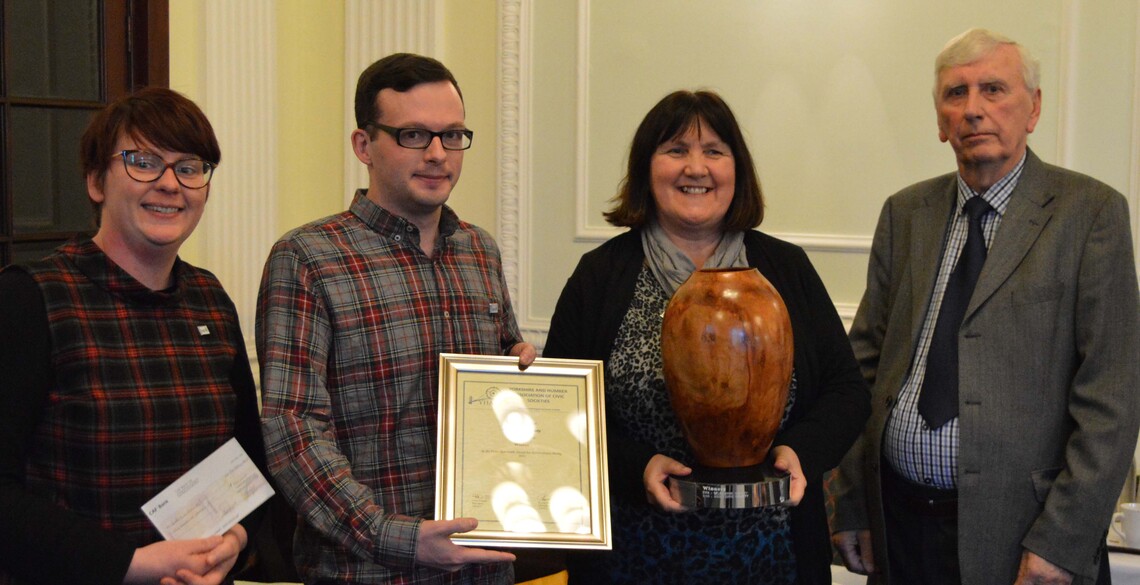 Goole Civic Society has been voted Regional Civic Society of the Year for Yorkshire and the Humber 2015.
It was presented with the Peter Spawforth Award for Achievement at the annual general meeting of the Yorkshire and Humber Association of Civic Societies in Harrogate on Saturday, January 30th.
Goole Civic Society Chair Margaret Hicks-Clarke said: "We're thrilled to receive this trophy, which reflects all the hard work our committee and members have put in over the last 12 months.
"We are the newest Civic Society in the region, formed in 2011, and for 2015 set ourselves the target of raising our profile with the wider community and the local authority. We decided to do something to promote ourselves as a society that gets things done."
Kevin Trickett, Chair of Yorkshire and Humber Association of Civic Societies (YHACS), said: "This is a terrific result for Goole Civic Society. Against stiff completion from other societies in the region, Goole Civic Society, a young society with only 15 members, has shown what can be achieved when local people come together and take positive action to help improve the place where they live."
Ian Harvey, Executive Director of Civic Voice, the national organisation for the civic movement, tweeted: "Fantastic news @Goole_Civic_Soc win the Peter Spawforth award for awareness raising!"
A total of 41 societies belonging to the Yorkshire and Humber Association of Civic Societies were invited to submit applications for the award. Judges scored entries against four key criteria – innovation, popularity, long-term benefit and impact.
Goole's entry cited a number of achievements.
In September the society launched the Reuben Chappell art trail, erecting reproductions of the "Pierhead Painter's" pictures throughout the town, after securing funding from East Riding Council's High Street Fund, the Business in Goole group and a private benefactor. It wrote and designed a booklet to accompany the trail and has so far distributed more than 3,000 free copies.
It also designed and built its own website – www.goolecivicsociety.org.uk – and created QR codes to link to it from the Reuben Chappell plaques and booklet, and other society literature.
In another project, the group created A0 sized boards showing old views of Goole town centre to display in the windows of vacant shops, securing funding from the Yorkshire Water Goole Community Fund.
The Civic Society's suggested name of "Tom Pudding Way" was chosen for the town's new A161 link road from the M62 to the docks. The society has created an interpretation board explaining the name's origin, which will be erected soon.
The society also organised the town's contribution to the national Heritage Open Days celebration and took part in events including Beach Day and Miracle on Aire Street.
Winning the award has given society new momentum for 2016. Already this year it has become part of a national campaign to record the condition of war memorials and has joined comedienne Jo Brand on the Goole leg of her walk from the Humber to Liverpool.
It has also launched a drive to recruit new members who want to make Goole a more distinctive and attractive place.
Chair Margaret Hicks-Clarke said: "Goole often gets bad press but I'm proud to call it my home. I want to make other people proud to live here too. We'll be putting the award's £200 prize money towards new projects to promote the town."
YHACS Chair Kevin Trickett added: "In just four years, the society has come on in leaps and bounds. If this is what they can achieve with just 15 members, imagine what they could do with double or triple that number.
"I hope that local people will now step up and join the society as they continue their work to help make Goole a great place to live."
Pictured above: Civic Society Chair Margaret Hicks-Clarke receives the trophy from Peter Spawforth, right, with Secretary Stephen Walker and Treasurer Rachel Walker.
Find out more about the society on this website or come along to our next meeting at the Lowther Hotel, Aire Street, at 7.15pm on Wednesday February 24th.