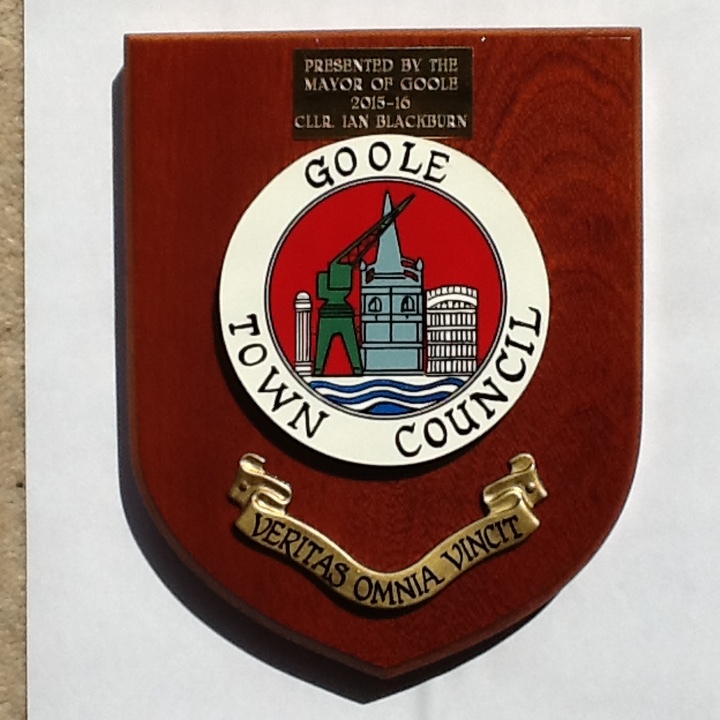 The retiring Mayor of Goole, Coun Ian Blackburn, has presented Goole Civic Society with a plaque to thank them for all the work they do for the town.
He praised the society for the numerous projects it undertook to promote the town during 2015-16, including the Reuben Chappell Art Trail and the town's first Blue Plaque to honour Percy Jeeves, the inspiration for author PG Wodehouse's "Gentleman's Gentleman" Jeeves.
An award was also presented to the Goole First World War Research Group, founded by the Secretary and Vice Chair of Goole Civic Society, Stephen Walker and Chris Laidler. Coun Blackburn spoke of the tremendous effort the group had put into the restoration of a memorial to 16 civilians who died in a Zeppelin raid on Goole in 1915.
Awards, presented at Goole Town Council's annual general meeting, also went to Castaway Accessible Music Theatre and the town's RSPCA volunteers.
The Mayor said: "When I was a lad, if Goole came on the television we shouted for people to come and see. Now it's a regular event thanks to the efforts of people who want the best for the town.
"They have put Goole on the map."