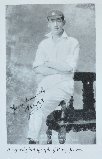 Goole Civic Society is to unveil its first Blue Plaque to honour the Goole cricketer whose name was immortalised by writer P G Wodehouse.
Percy Jeeves spent his boyhood at 72 Manuel Street and played for Goole Town Cricket Club before becoming professional and playing County Cricket for Warwickshire.
In 1913, writer P G Wodehouse saw him play a match at Cheltenham and was so impressed he later used the name for Bertie Wooster's immaculate manservant Jeeves.
Like so many young men of his generation, Percy Jeeves's life was cut short by the First World War. In July 1916, when he should have been in his prime and most likely playing for England, he disappeared without trace during the Battle of the Somme.
Percy's great nephew, Keith Mellard, will be travelling from his home in Aberdeen to unveil the Blue Plaque on Wednesday, April 6th. He will be joined by Brian Halford, cricket writer and author of The Real Jeeves, a book about Percy's life.
The plaque, which will be placed on the Oddfellows building at the corner of Manuel Street and Boothferry Road, has been funded by Goole & District Lottery, Goole Town Cricket Club and the P G Wodehouse Society (UK).
The chair of Goole Civic Society, Margaret Hicks-Clarke, said: "We could think of no finer person to honour with our first Blue Plaque, being unveiled in the anniversary year of Percy Jeeves's death.
"He was a great cricketer and a brave soldier who paid the ultimate sacrifice for his country."