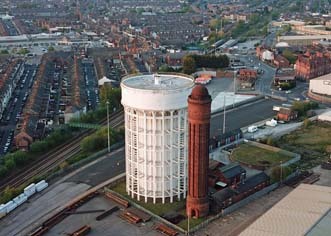 Goole's twin water towers are a landmark that can be seen from miles around. For generations they have been nicknamed the Salt and Pepper Pots but local people are divided on which is which.
Now it's stirring up a storm, with regional, national and even international media coverage. We featured in the Guardian, Daily Express, Yorkshire Post, Hull Daily Mail and even ABC, Australia's national radio. Watch out for us on BBC's Look North and YTV's Calendar.

It's put our town and its Salt and Pepper Pots on the map.
The first tower – the thin brick one – was built in 1885 to supply the town with clean piped water at a time when people we, re dying of cholera and typhoid. As the town expanded, there was a need for more water, so the white concrete tower was built in 1927.
Some time after that, local people began calling the towers the Salt and Pepper Pots and the name has been passed down the generations.
No one had really given much thought about which one was which until the Civic Society started planning ways to celebrate Goole's bicentenary in 2026.
It was suggested that we commission commemorative salt and pepper sets in the shape of the towers. There was just one problem – salt has one hole and pepper several and we needed to know which way round they should be.
Please let us know what you think via our contact form or on Twitter (X) @Goole_Civic_Soc
We aim to have the definitive verdict by our meeting on September 27th.
Picture: David Robinson