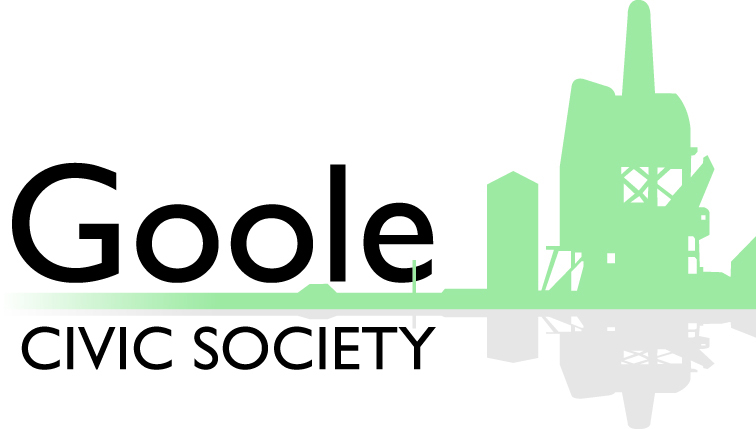 Our vision
Goole Civic Society was founded in 2011. Its vision is to protect the unique character of the inland port town of Goole, in the East Riding of Yorkshire, while also promoting its future and making it a better place to live and work in.
Campaigns and activities
The Society campaigns on planning issues. We played a major part in defining the town's Conservation Area and were successful in gaining Grade II listed status for Goole police station and former magistrates' court.
We have also compiled a Local List of buildings valued as heritage assets to the town and submitted it to the East Riding of Yorkshire Council for consideration.
In 2013 we launched a Heritage Award scheme for historic buildings that have been restored and given a new purpose.
We monitor all planning applications and, where appropriate, submit objections and comments to the local authority.
We are campaigning to secure a future for Goole Market Hall, which closed in January 2019. In December 2018, we organised a Christmas Market in the Hall to provide a boost to traders and demonstrate what might be possible with visionn and community co-operation.
Projects
In September 2015, we launched the Reuben Chappell Art Trail celebrating the work of the town's famous Pierhead Painter with replca paintings dotted around the town.
In May 2016, we produced a pop-art booklet entitled 50 Fascinating Facts About Goole. Copies are available free from Goole Museum and Library or by contacting the Civic Society.
We have also mounted Old Pictures of Goole in windows of empty shops to brighten the town centre.
To mark the 50th anniversary of the establishment of Conservation Areas, we produced a Conservation Area Guide with maps of the Goole Conservation Areas and advice for property owners
As our contribution to Hull City of Culture 2017, we produced a film, Reflections on Goole. It blends reminiscences of the public with old and new images and video footage, including specially commissioned drone footage showing Goole from a different perspective. The film opened to packed audiences and has been shown to numerous local groups. DVDs of the film are now on sale, priced £6 or £10 for two. If you would like a showing for your society or would like to purchase a DVD, please contact the Society.
Blue Plaques
In April 2016, we launched our first Blue Plaque to honour Percy Jeeves, Goole cricketer, soldier and inspiration for Jeeves in the PG Wodehouse books.
In 2017 we added a Blue Plaque at the Lowther Hotel, in recognition of its designation as the oldest hotel in England.
In 2018 we honoured the women who worked in Goole's shipyards in the first and second world wars with a Blue Plaque on the former Shipyard Offices in Swinefleet Road, Old Goole, also marking the 100th anniversary of women's suffrage.
Civic Day
In June, Civic Voice, the national organisation for the civic movement, celebrates Civic Day, when Civic Societies all over England organise events to promote civic pride. In 2016, Goole Civic Society organised the Big Goole Quiz and Treasure Hunt, in conjunction with the Goole Times. If you missed it, you can test your knowledge here.
Goole Civic Society was one of only six societies in England to receive Civic Day Awards in 2016 and the society's Chair and Press Officer were invited to an event at the House of Commons to launch Civic Day 2017.
To mark Civic Day in 2017, we opened a pop-up shop in the town centre and conducted video interviews with members of the public to contribute to our film project, Reflections on Goole.
Concerns about the future of our town centre prompted us to mark Civic Day 2018 by conducting a high street survey, which we submitted to East Riding of Yorkshire Council.
Heritage Open Days
Every September we organise events around the town as part of Heritage Open Days, a national celebration of the nation's history and culture.
Community projects
We work with the Goole Area Local Growth Partnership, Business in Goole, local schools and other groups to promote understanding of the origins and unique character of the town they live in. We support local events, such as Beach Day, the annual Hobbies Exhibition and Family History Day.
Links
We are members of Civic Voice, the national organisation for the civic movement.
Our chair is a committee member of YHACS, the Yorkshire and Humber Association of Civic Societies.
Goole members may attend the informative and social events organised by these groups, meeting like-minded people from societies near and far.
We are here to help you
We welcome your questions, concerns, requests for advice or help over planning issues, and comments or suggestions about the built environment or our open spaces.
For example:
Is a certain building listed?
How can the community protect a building or place it values?
Can anything be done about the neglected state of buildings or open spaces in the town?
How can people voice their views on planned developments?
We need your support
To meet our aims and objectives, we need the backing of as many people as possible. Together we can make a difference and make our town a better place to live and work in.
Please join us
We meet at 7.15pm on the last Wednesday of the month by Zoom at the moment. You are welcome to come along to a meeting to find out more, or contact us at goolecivicsociety@gmail.com; Twitter @Goole_Civic_Soc
Even if you are unable to attend our meetings regularly, we value your support as a member and will keep you up-to-date with what's happening via our mailing list. There is an annual membership fee of £10 per individual or £15 per couple.
JOIN US AND MAKE YOUR VOICE HEARD!