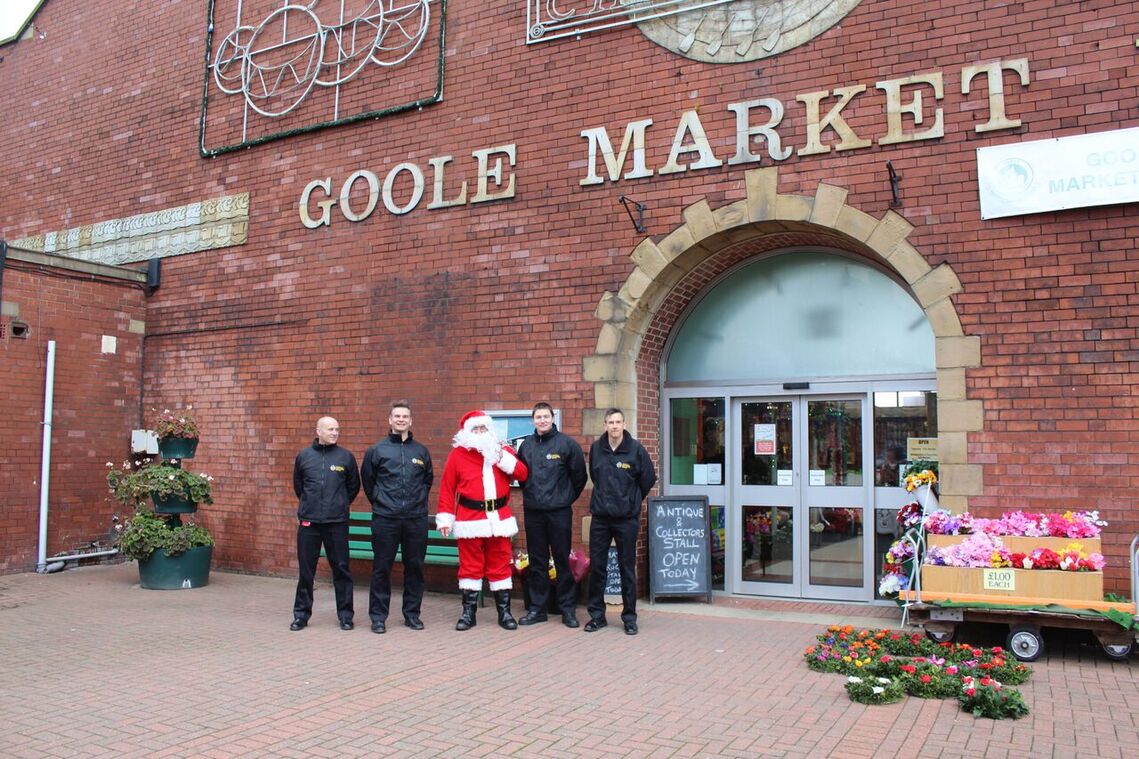 Santa dropped in at Goole Market Hall by fire engine as charities and entertainers took part in an event to boost stallholders facing their final Christmas. View our video montage of the day.
Goole Civic Society, which is campaigning to promote the Market Hall's future, rented out all the vacant stalls in the market and donated them for use by local charities.
Among those attending were Goole Rotary, the Lions, the Green Team, the Yorkshire Waterways Museum, Friends of Oakhill, Boothferry Family and Local History Group, the Police, Oddfellows and Revive Church.
Castaway and the Muffintops vocal duo gave up their time to perform Christmas songs to add to the festive atmosphere.
The Civic Society transformed one of the stalls into Santa's grotto and another into a cinema selling DVDs of its film, 'Reflections on Goole'.
Santa will be making a return visit this Saturday (December 15th), with the grotto open from 10.30am to 2.30pm. 'Reflections on Goole' DVDs will also be on sale on the day.
The chair of Goole Civic Society, Margaret Hicks-Clarke said: "Our thanks to all involved on Saturday, including the fire service, who delivered Santa in grand style"We achieved our aim to fill the market for a day. It was really buzzing, despite the fact that road closures and traffic accidents had brought the town to a standstill. It showed what a great community Goole has and what can be achieved if we all pull together.
"Although our event was festive and fun it had a serious purpose. We are campaigning for the future of Goole Market Hall after traders leave in January. We want to keep it as an asset for the town and are asking the people of Goole what they think should happen to it."
The Civic Society launched a 'People's Vote on the Future of Goole Market Hall' and canvassed the views of people during the event. Out of 81 votes cast, 51 supported shared use as a market and community venue; 16 as a revamped market and 14 as a community venue. There were no suggested options for other potential uses for the building.
There is still time for other people to have their say by emailing goolecivicsociety@gmail.com and supporting one of these options for the Market Hall:
Revamp the market with a different variety of stalls.
Convert the Market Hall into a venue for community use.
Mixed use as both a market and a venue for the community.
Other (please explain)
Mrs Hicks-Clarke added: "We will pass on views to East Riding of Yorkshire Council, which owns the Market Hall.
"This is a prominent Victorian building in the heart of our Conservation Area and we want to see it put to good use to benefit the people of Goole."