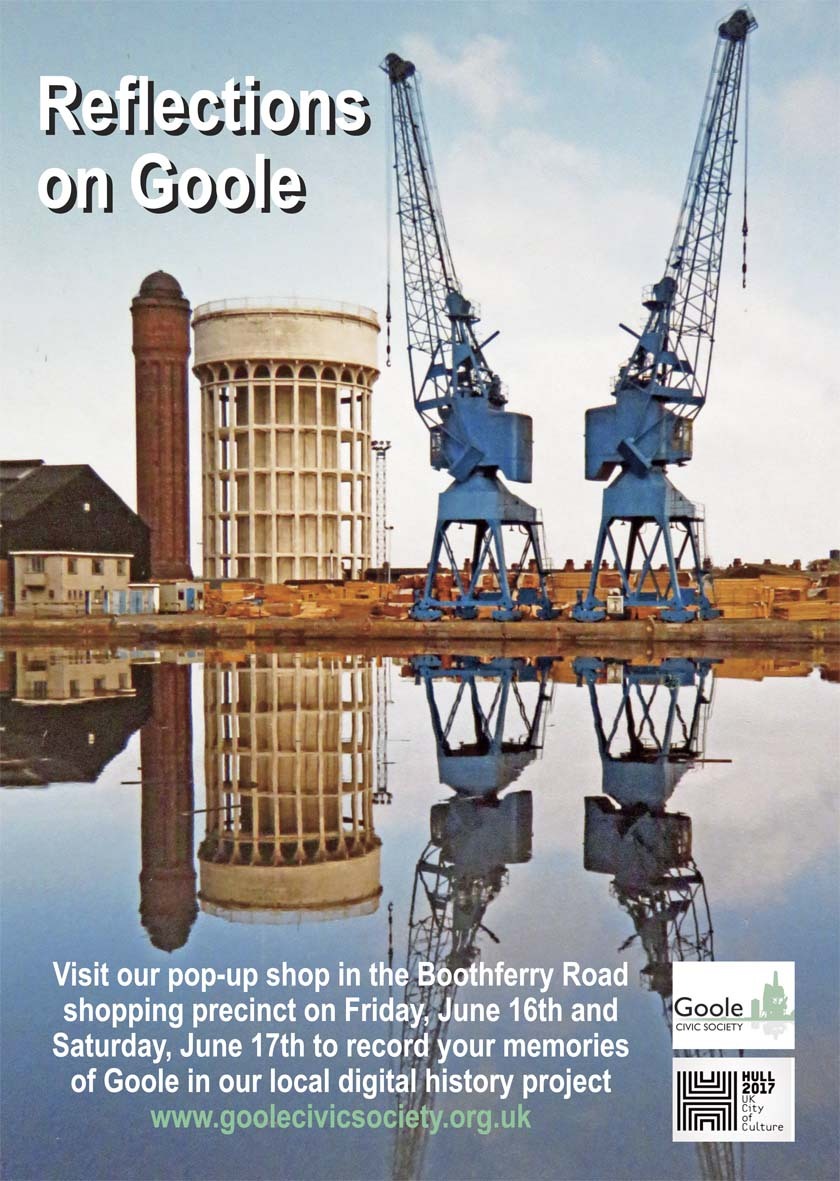 People will be invited to share their memories of Goole at a pop-up shop as part of the town's contribution to Hull City of Culture.
Goole Civic Society is collecting memories for a public history project which aims to tell Goole's unique story to a wider audience and change people's perceptions of the town.
The society is inviting people to come to the pop-up shop in the Boothferry Road pedestrian precinct on Friday June 16 and Saturday June 17 to record their memories of Goole and its close connection with the water. The shop will be open from 10am to 5pm.
The video clips will be collated to form a digital archive for future generations. They will also feature in a short film the society is making about the town.
Memories could be about growing up in Goole, working on the docks or at the shipyard, favourite haunts or pastimes, lives of your ancestors, arriving as a newcomer, funny stories or anything that recalls life in the town. The society is also asking people what they love about Goole and what they would tell a visitor about the town.
The project, entitled Reflections on Goole, is funded by East Riding Council 2017 Active Creative Grants, in support of Hull UK City of Culture 17. The film and other material from the project will feature in Goole's Festival of Water in October, linked to Hull City of Culture.
Goole Civic Society Chair Margaret Hicks-Clarke, said: "This project is about celebrating the town where we live and changing people's perceptions of Goole. We would love to hear people's memories of the town and why it is so special to them.
"There is no need to be camera-shy. Several people have been filmed so far and lived to tell the tale!
"We recently acquired a film made by Goole Junior Chamber of Commerce in 1964. It was fascinating to see how things had changed.
"We would like to think that in another 50 years, someone might watch our film and learn more about our great town."
The pop-up shop is also the society's contribution to national Civic Day on June 17, when communities across the country say "we care about where we live".
Last year Goole Civic Society won a Civic Day award from Civic Voice, the national charity for the civic movement, for the society's Big Goole Quiz and Treasure Hunt, published in collaboration with the Goole Times. It was praised as an excellent example of public engagement.
If you are unable to visit the pop-up shop, the society will be organising other dates for recordings and is happy to visit groups or individuals.
Please get in touch by emailing goolecivicsociety@gmail.com or telephoning Margaret Hicks-Clarke on 01405 760468.
The picture on the poster was taken by the Rev Timothy Leach, Vicar of Goole 1980-1995.